Kaha 1.0 : In the beginning there were pop-ups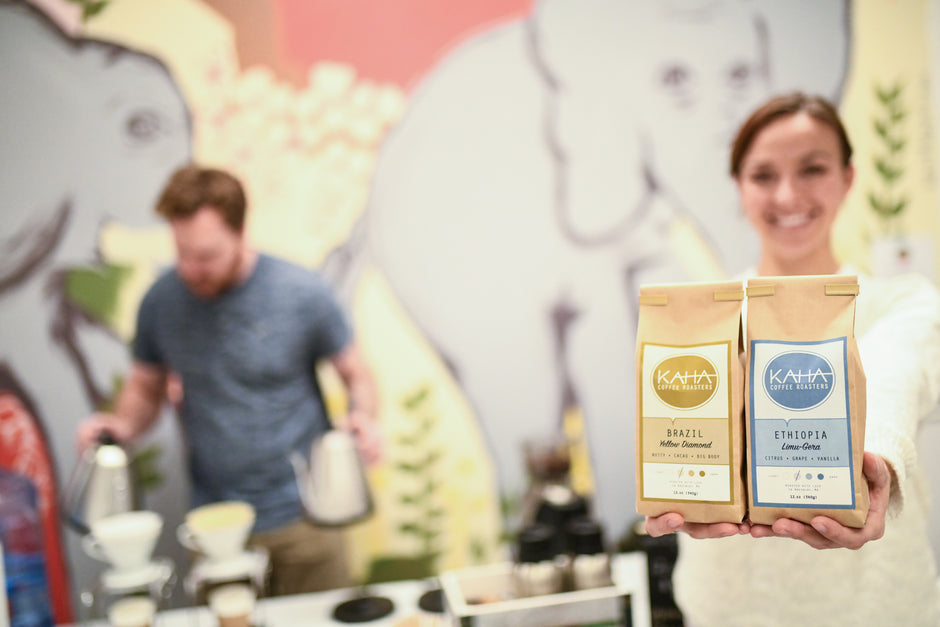 Welcome to our first blog post!  Today, I want to share with you a little bit about our journey in the coffee industry so far. 
We opened our doors in early December 2017, starting out as a pop up at our local open studio tour, in our hometown of Amesbury, MA.  We only had two coffees on offer and no labels for our bags, so we used stamps purchased from a local craft store.  We were pretty much freaking out.  But, we had to start!  It had been almost six months since the roaster was installed, what was I waiting for?!  I was scared to start, not knowing exactly what my business model was, or what made KAHA different from other roasters.  I was so in my head about opening that it kept me from taking action. In hindsight I now realize that I just needed to start.  I didn't need to know exactly where I was going, I just needed to do the next thing that felt right to me in my business and be ok with sometimes taking alternate routes or deviating from the "plan". The open studio tour ended up being the perfect nudge in the right direction. 
We quickly became inundated with requests to serve our coffee at pop ups all over the seacoast, from Newburyport to Portsmouth.  We were rocking and so excited to finally be in business!  The feedback was incredible, which helped propel the business forward with newfound confidence.  We served at pop up events for a few months and have since evolved into a wholesale supplier and online retailer.   
As of this moment, KAHA is primarily a wholesale supplier to cafes, grocery stores, and farm stands with aspirations to serve a larger audience through our website.  We have a knack for roasting impeccable coffee and a true desire to connect with the masses in a way no other coffee company has before.  We encourage slowing down and savoring your morning cuppa, while preparing for the day ahead in a productive and conscious way.  KAHA will positively weave its way into creating your most epic day, everyday.
---
---