Cooking and Coffee: Rio Bowl + KAHA Summertime Blend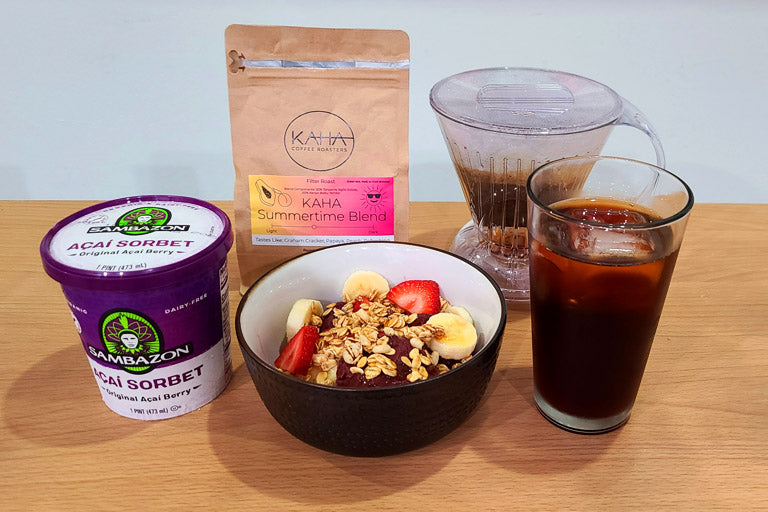 This summertime recipe features an energy packed Rio Bowl including the Brazilian superfood berry, Açaí, which is packed with antioxidants. The name "Rio" in Rio Bowl refers to the world famous seaside city Rio de Janeiro in Brazil, famed for its Copacabana and Ipanema beaches, the giant Christ the Redeemer statue atop Mount Corcovado and for it's iconic Carnival festival. The Açaí berry, grown from the Açaí palm, is native to Brazil and became popularized in the city of Rio de Janeiro.
Topped with fresh strawberries, bananas, granola, and honey, this Rio Bowl is both delicious and refreshing. We like this Rio Bowl recipe best for breakfast and paired with KAHA Summertime Blend iced coffee for a combination that's sure to get your day off to an amazing start! Scroll down for both recipes below.
Rio Bowl (Makes 1 serving)
Ingredients:
Sambazon Acai Sorbet (3 Scoops, about 1/3 of a 1 Pint container) *Sambazon brand Açaí sorbet is Organic, Vegan, and Gluten Free
3-4 Fresh strawberries, sliced
1/2 Fresh banana, sliced
3 Tablespoons of your favorite granola
1 Teaspoon honey to drizzle
Recipe:
Using an ice cream scooper, or large spoon, scoop out three (3) scoops of Sambazon Açaí sorbet into a bowl. You can allow the sorbet to thaw slightly to make it easier to scoop.
Slice 3-4 fresh strawberries, then place the slices on top of the three scoops of Açaí you placed in your bowl.
Slice 1/2 fresh banana, then place the slices on top of the three scoops of Açaí and strawberries
Measure out about 3 tablespoons of your favorite granola and sprinkly on top of the Açaí, strawberries, and banana
Drizzle about 1 teaspoon of honey over the granola, banana, strawberries and Açaí in your bowl
Grab a spoon and enjoy!


KAHA Summertime Blend - Iced Coffee (Makes 1 serving)



Our KAHA Summertime Blend has tasting notes of graham cracker, papaya, and peach and is delicious hot, iced, or cold brewed! For this pairing, we suggest an iced coffee using the Clever Coffee Brewer which is available now in our online store. The combination of the Rio Bowl and Iced KAHA Summertime Blend is sure to refresh you on a warm summer morning!

Items needed:
Clever Coffee Brewer *You can also use your favorite brewing method
#4 Paper Coffee Filter (we use Melitta Coffee Filters, bleached)
Scale (that measures in grams)
250 milliliters or grams Filtered or Spring Water
A Spoon or Stirrer
6 Regular Sized Ice Cubes (4 for brewing, 2 to add for serving)
A timer
A Mug or Serving Cup
Milk or Non-Dairy Creamer *Optional
Sugar or Sweetener *Optional
Recipe: 
Fold the seams of a #4 paper coffee filter on the bottom and side seam and place inside the Clever Brewer
Boil water and pre-rinse the #4 paper coffee filter while pre-heating the Clever Brewer by pouring boiling water into the filter & Clever about half way. Let the water sit there while you measure out and grind your coffee.
Weigh out coffee to be used. This recipe calls for 19 grams of KAHA Summertime Blend *If you do not have a kitchen scale, you can add 2-3 tablespoons of ground coffee.
Grind coffee so it is medium coarse (about a 23 on the Baratza Encore grinder) *You can also use medium fine drip coffee consistency and adjust your steep time.
Discard the water you used for pre-rinsing your filter and pre-heating your Clever Brewer
Add your ground coffee into the Clever Brewer.
Place your Clever Brewer, with ground coffee in it, on your scales and tare your scale (set it to zero).
We recommend using water about 20 seconds off the boil (around 205-207 Fahrenheit).
Pour just enough water into the Clever Brewer to cover the grounds, and wait 30-45 seconds (the bloom phase).
Add water until your scale reads 250 grams.
Using the timer on your scale or your phone's stopwatch feature, wait 6 minutes
While you wait, get a mug, metal cup, or thick serving cup and place 4 regular sized ice cubes in it (we brew into a metal travel mug then transfer to a glass pint glass for serving)
At 5 minutes, use a spoon to stir all of the coffee in the water.
Wait one more minute until 6 minutes
Take the Clever Brewer and place it on your mug or cup to allow the coffee to begin to drain. It should take about 1 minute to drain.
Some of your ice will completely melt. Once the coffee has drained into your mug or cup, add 2 more ice cubes (or more) to your serving cup.
Add milk, or non-dairy creamer and sugar or sweetener (both optional) and enjoy with your Rio Bowl!

*Alternatively you can prepare the KAHA Summertime Blend in your favorite brew method and enjoy it hot or cold.
---
---