Kaha Espresso Chicken Mole by Harding Catering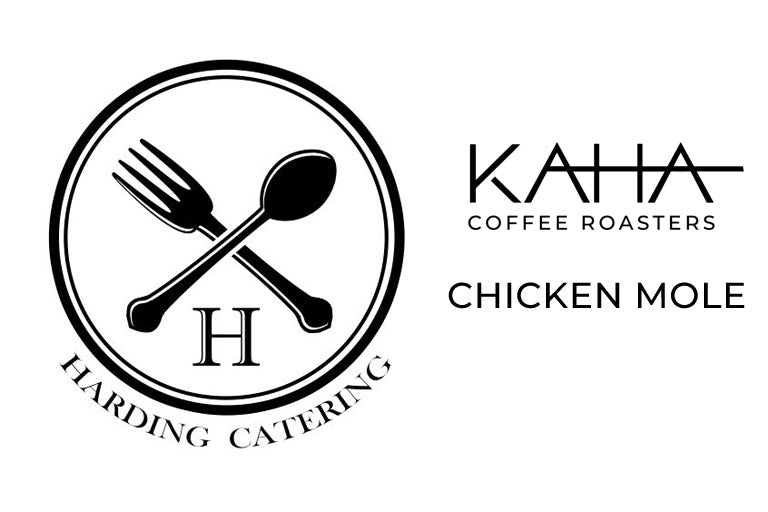 For this installment of Cooking & Coffee we are proud to feature local Amesbury, MA small business: Harding Catering. This delicious KAHA Espresso Chicken Mole recipe will actually be available for order beginning Valentine's Day 2/14 for delivery on 2/23. Delivered Family Meals are available for 4 or 8 people. Please see https://www.facebook.com/hardingcatering for order and delivery radius information or contact kristofer.harding@gmail.com
We are happy to announce that KAHA's Vertical Espresso is one of the ingredients which brings together the complex flavors of this Chicken Mole recipe. As an added bonus, all orders for this dish placed through Harding Catering will receive  a FREE 12 oz. bag of KAHA Coffee (your choice of variety).
Ingredients:
4 chicken breasts
1 teaspoon cumin
6 tablespoons olive oil
1 yellow onion diced
2 cloves garlic minced
2 poblano peppers diced
1 large tomato diced
1 tablespoon oregano
4 cups chicken broth
6 tablespoons cocoa powder
3 ounces brewed KAHA Vertical Espresso
½ cup water
2 tablespoons smooth peanut butter
1 tablespoon cinnamon
salt & pepper
Directions:  Season chicken breast with salt & pepper, and sprinkle with cumin.  Heat 4 tablespoon of olive oil in skillet and add chicken. Cook over medium-high heat for 4 minutes per side, or until nicely seared. Remove chicken and hold off to the side on a plate. Chicken will not be yet be fully cooked.
In a stock pot, heat 2 tablespoons of olive oil and add diced onion, minced garlic, and diced poblano pepper. Cook for 4 minutes (or once the onion looks like it is starting to soften up). Add diced tomato and dried oregano, and sauté for another 3 minutes.  Add chicken stock, cocoa powder, KAHA Espresso, cinnamon, water, and peanut butter. Bring to a boil, and then reduce heat to simmer for 20 mins (stirring occasionally).  Use an Immersion blender to blend until smooth or use a blender (being careful as it is hot!). 
Add the chicken to the sauce and simmer for another 30 mins. Remove from heat and use two forks to shred separately from sauce. Return shredded chicken to sauce. Add salt & pepper to taste.
Sourcing espresso:  If you have an espresso maker at home you can purchase KAHA Vertical Espresso at www.kahacoffee.com, or you can go to Market Square Bakehouse in Amesbury, MA and purchase a triple shot to get the 3 ounces you need. We recommend real, high pressure, espresso to get the depth needed for this recipe.
Ways to eat:  Use in tacos, enchiladas, quesadilla, burritos, or serve over rice with garnishes of lime wedges, fresh cilantro, cotija cheese.
Thank you to Kristofer Harding of Harding Catering for this recipe!
Facebook: https://www.facebook.com/hardingcatering
Web: https://www.hardingcatering.net/
Email: kristofer.harding@gmail.com
Phone: 603-490-9660
To purchase KAHA Vertical Espresso for this recipe click here:
---
---